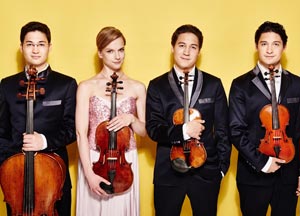 The Schumann Quartett

Program
Pyotr Tchaikovsky
Quartet No. 3 in E-flat minor, Op. 30
Dmitri Shostakovich
Quartet No. 7 in F-sharp minor, Op. 108
APRIL 14th, 2018
Saturday at 6:00 p.m.
The Schumann Quartett
The Schumann Quartett is comprised of brothers Eric, Mark and Ken Schumann and violist Lissa Randalu. The brothers, who were born in the Rhineland, started playing together six years ago. In 2012 Lissa Randalu, who grew up in Dusseldorf, joined as violist. The Quartet studied with the Alban Berg Quartet and had a long-term residency in Robert-Schumann-Sall in Dusseldorf.
The Schumann made their American debut in the 2015/2016 season in Washington D.C. They are currently based in Berlin and are in residence with Chamber Music of Lincoln Center. Their latest recording is titled Mozart Ives Verdi which offers a glimpse of the breadth of their musical interests.