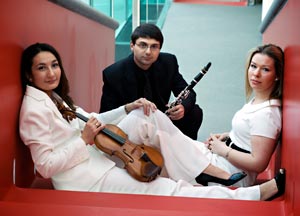 The Prima Trio

Program
Max Bruch
Selections from Eight Pieces for Viola, Clarinet, and Piano, Op. 83
Darius Milhaud
Suite for Clarinet, Violin, and Piano,
Op. 157B
Astor Piazolla
Oblivion
Otono Porteno
Aram Khachaturian
Trio for Clarinet, Violin, and Piano
FEBRUARY 25th, 2015
Tuesday at 11:30 a.m.
The Prima Trio
This delightful trio of violin, clarinet and piano was founded in 2004 while its members were studying at Oberlin. They triumphed at the 2007 Fischoff Chamber Music, winning the coveted Grand Prize. Their spirited performance garnered this praise from the Palm Beach Daily News — "A virtuosic tour de force…a whirlwind of joy."
Program Notes
Suite for Clarinet, Violin, and Piano, Op. 157b
Darius Milhaud
Darius Milhaud, a French composer associated with the avant garde of the 1920's, was creative in all musical genres and was a pioneer in the use of percussion, polytonality, jazz, lyricism and complex harmonies giving his music a compelling stylistic unity. Born in Marseilles he grew up in Aix-en-Provence. His music is profoundly influenced by Provence, a region of striking contrasts, harsh arid landscapes and the majestic river Rhône. During the 1930s Milhaud frequently put his talents to the service of stage and cinema. In 1936 he wrote the incidental music for Jean Anouilh's play Le Voyageur sans bagages which was staged at Paris's Théâtre des Mathurins. From this music he drew the Suite, Op. 157b, for clarinet, violin and piano. The first performance of this work took place on January 19, 1937 as part of the Parisian concert series organized by the "La Sérénade" music society.
The main theme of the Ouverture is sustained in the lower register of the piano by a typically Latin-American rhythm (3+3+2). The Divertissement's opening theme takes the form of a dialogue between violin and clarinet. Jeu is a duet for the violin and clarinet while the piano remains silent. The Final following a stately introduction includes a theme in the style of a French chanson and music with a blues-like atmosphere.
Eight Pieces for Viola, Clarinet, and Piano Op. 83
Max Bruch
Max Bruch is known to us today primarily for his Violin Concerto in G minor, his Scottish Fantasy and his setting of Kol Nidre for cello and orchestra. During his long career in music he held prestigious positions throughout Germany and also in England (Liverpool). He produced operas as well as many choral and instrumental works that kept his name before the German public. The Eight Pieces for Clarinet, Viola and Piano, Op. 83 were composed late in Bruch's creative life. The instrumentation reflects the composer's preference for a mellow orchestral timbre including the clarinet, viola, cello and horn. In correspondence he reports that his son, Felix (an accomplished clarinetist), had performed the pieces with a harpist in Bonn. Though his comments on the use of the harp are confusing, there is a strong presumption that Nactgesang and Rumänische-Melodie, by virtue of their arpeggiated accompaniment, had been originally conceived for the harp. In 1909 his son gave successful performances of the work in Cologne and Hamburg. There was no mention of the harp in his correspondence with the publisher Simrock and the designation of the harp would have limited the sales among amateur music makers. Two other works of this "late creative" period include a concerto for clarinet, viola and orchestra, Op. 88 and a Romance for viola and orchestra, Op. 85. Of the Eight Pieces, the first six are set in either binary or tertiary structure whereas the last two are in sonata form. The two soloists take equal share in the proceedings and the piano performs a largely subsidiary role in accompaniment. The theme of the exquisite Rumänische-Melodie was suggested to him by the delightful young Princes zu Wied, one of his Sunday open-house visitors, to whom Op. 83 was dedicated.
Oblivion and Otoño Porteño
Astor Piazzolla
Born in Argentina in 1921 to Italian parents, Piazzolla was a child prodigy on the bandoneón (an offshoot of the German concertina). In 1924, his family immigrated to New York City but he returned to Buenos Aires as a teenager to compose symphonies and film scores by day and perform in night clubs on the bandoneón. His teachers included Alberto Ginistera in Argentina and Nadia Boulanger in Paris. In Buenos Aires he became the voice of the tango and founded the Octeto de Buenos Aires and later the Quinteto Nuevo Tango. His Nuevo Tango style is a fusion of jazz and contemporary classicism (including elements of chromaticism, dissonance and classical forms such as fugue). It is estimated that Piazzolla wrote over 3,000 pieces and recorded over 500. In Argentina he is known as El Gran Astor and recognized as the soul of tango.
Otoño Porteño, is a piece colored by sensuous cadenzas and fiery outbursts. "Porteños" refers to "port people" colloquially, native Buenos Aires dandies. Oblivion draws its languorous mood from the slow tempo and swaying rhythm of the milonga, a term for the popular music of the pampas (plains).
Program notes by James L. Franklin, M.D.