The Telegraph Quartet
Program
Haydn
String Quartet in F Major, Op. 50, "Prussian," Hob.III:48, "Dream"
Beethoven
String Quartet No. 15 in A minor, Op. 132
The Telegraph Quartet
The Telegraph Quartet was formed in 2013 with an equal passion for the standard chamber music repertoire and contemporary music. In 2014 they were awarded the Grand Prize in the Fischoff Chamber Music competition and in 2016 they were awarded the prestigious Walter W. Naumburg Chamber Music Award. They have performed in concert halls, music festivals, and academic institution in the U.S and abroad. The Telegraph is currently Quartet-in-Residence at the San Francisco Conservatory of Music.
Program Notes
Franz Joseph Haydn (1732-1809)
String Quartet in F Major, Op. 50, no. 5 (Hob.III:48), "Dream" (1787).
Performance time: 17'
In 1787, the United States Constitution was written and signed (and then ratified a year later); Mozart's Don Giovanni premiered in Prague; Caroline Herschel, working with her brother's telescope, started her discovery of eight comets over the next nine years.

Franz Joseph Haydn 1732–1809
For thirty years, Franz Joseph Haydn worked for the Esterhàzy family, one of the wealthiest and most influential families of the Austrian empire and which boasted a distinguished record of supporting music. During that time, Haydn fully developed the string quartet form, and other important patrons frequently offered him commissions. The cello-playing Friedrich Wilhelm II, King of Prussia, was one such patron, who had also commissioned cello sonatas from Beethoven and string quartets from Mozart. Haydn dedicated his Opus 50, comprising six quartets, to the Prussian king, and since then, they have been called "The Prussian Quartets." The cello part is prominent in these quartets and the king himself played the early performances of the works.
Our ensemble today, the Telegraph String Quartet, notes that in this quartet, Haydn presents defined shifts in tonality and form, and explores connections and evolutions between musical ideas. We start with a fun, even funny, first movement. The bouncy theme is repeated, each time charming and slightly different. Haydn alters the theme by varying its rhythm, by adding ornamentation, and by including unexpected notes. Modulations to unexpected keys, occasionally punctuated by long pauses, are humorous. The cello has attractive solo moments for the king's performance pleasure.
The first violin's long, languid melody in the slow movement gives this quartet its nickname, "The Dream." The tune is played in variation several times. The third movement features the first violin against the other three instruments. Then abruptly, all four play the theme in strong unison, but giving the cello once again a prominent role. The quartet ends in a jolly mood with fast ornamented runs up and down the notes of the principal chords of the key of F major.
Click here for a lively performance recorded in 1988 by the Tokyo String Quartet. The ensemble formed when they were all students at Juilliard 1969, and the Tokyo went on to enjoy a celebrated international career for 44 years.
Ludwig van Beethoven (1770-1827)
String Quartet in A minor, Op. 132 (1825).
Performance time: 45'
In 1825, The Erie Canal opens, providing passage from Albany, New York to Buffalo and Lake Erie; Brillat-Savarin publishes "The Physiology of Taste;" emergence of the. Hudson River School of Art; Alexander Pushkin writes "Boris Godunov."

Beethoven's favorite engraving of himself, by Blasius Höfel
Who would have ever thought that on March 22, 2023 there would be a headline article in The New York Times about a new DNA study of Beethoven's hair and his illness, the illness that he referenced in the very quartet we will hear today, all of which is nearly two hundred years later? Such is the long-reaching charisma and power of this man. The article is fascinating, as it discusses many of the questions that have swirled around Beethoven for two centuries. Did he die from lead poisoning? When Argonne National Laboratories analyzed a sample of his hair, they found that it contained lead levels 100 times higher than normal. This new study finds that the sample that Argonne examined was not Beethoven's, but came from a woman whose hair had been substituted for Beethoven's. Had he been inadvertently poisoned by medicine, wine, or eating and drinking utensils, as an authoritative journal article asserted? Did he have cirrhosis of the liver, which his symptoms suggested? The 2023 study showed that he had DNA variants that made him genetically predisposed to liver disease, and his hair contained traces of hepatitis B DNA, indicating an infection with this virus. How did Beethoven get infected? Hepatitis B is spread via sex, shared needles, and childbirth. We know that he was not a heavy drinker, was not an intravenous drug user, and although we know he was romantically interested in several woman, we don't know much about his sex life. So, the hypothesis now is that the composer could have been infected with hepatitis B during his birth. The virus is commonly spread this way, and infected babies develop a chronic lifelong infection which may eventually lead to cirrhosis of the liver or liver cancer. And we know that when he wrote Opus 132, he was suffering from liver disease (and other painful and debilitating abdominal maladies). Finally, regarding Beethoven's lineage, the recent DNA study raised the suspicion that his paternal grandfather was not his grandmother's husband, and it was certain that he was not of African heritage (another theory which had also been postulated). While none of this explains his hearing loss, it does answer a number of other open questions.
In this string quartet, Beethoven speaks directly of his own health problems, although we can also hear it as speaking of universal suffering. The first movement is intense and painful, with some relief given in the melodic second movement. Then in the third movement, we move to the essence of the quartet. Here, Beethoven inscribed, "Holy Song of Thanksgiving to the Divinity by a Convalescent, in the Lydian Mode." He is giving thanks for a sadly short-lived return of good health. The Lydian mode is a medieval church scale which gives the music a spiritual aspect. He even titles the next section "Feeling of new strength." The fourth movement is a raucous march which leads without pause into the fifth and final movement. In it we hear a pastiche of musical ideas played over an underlying turbulent rocking motion, bringing the musical proceedings to an uneasy and troubled conclusion.
Click here for a performance of this quartet by the Alban Berg Quartett, widely considered to be one of the very finest string quartet ensembles of all time. They were active for forty years before taking their final bow in 2008.
—Program Notes by Louise K. Smith
With thanks to The Telegraph Quartet, the New York Times, Melvin Berger and Lucy Miller Murray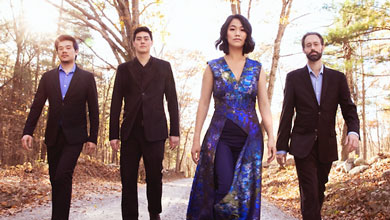 Individual tickets may be purchased at the door (cash or check only) immediately before each concert.
All concerts are held at a private club just off Michigan Avenue in Chicago.
Call or email Tricia Fusilero for more information
773-823-5569 x1012
office@ChicagoChamberMusicSociety.org