Jasper String Quartet
Program
Felix Mendelssohn
String Quartet No. 1 in E-flat Major, Op. 12
Jessie Montgomery
Strum
Claude Debussy
String Quartet in G Minor
Jasper String Quartet
The Jasper String Quartet was formed at Oberlin Conservatory in 2006. In 2008 they swept through the competition circuit, winning a number of Grand Prizes, including the Silver Medal at the Fischoff Chamber Music Competition. They were also recipients of Chamber Music America's prestigious Cleveland Quartet Award. During the 2020–22 academic years they will be Featured Artist-in residence at Swarthmore College.
Program Notes
Felix Mendelssohn (1809-1847).
String Quartet No. 1 in E-flat Major, Op. 12 (1829).
Performance time: 24'

Felix Mendelssohn
Born on the cusp between the classical period and romanticism, Felix Mendelssohn balances Mozartian elegance with Beethovian emotions. He is most frequently compared to the former composer, while in fact he most admired the latter. Felix Mendelssohn was born into a wealthy and cultured family. His father, Abraham, was a prominent banker in Berlin, and his grandfather, Moses, was the most celebrated Jewish philosopher and thinker of his age. Felix displayed his musical genius as a very young child, and as a 16-year-old prodigy, he wrote his Octet (for eight stringed instruments) and at 17 he wrote the famous Overture to A Midsummer Night's Dream. His extensive University studies were uncommon for composers in that period. At the end of his university courses, he conducted a performance of J.S. Bach's St. Matthew Passion, which hadn't been performed since Bach's death in 1750, and which stimulated new interest in Bach's music. Sadly, Mendelssohn died of a stroke at age 38. Although Mendelssohn was a baptized Lutheran, anti-Semitic feelings were strong, as evidenced by Richard Wagner's notorious 1850 essay, Judaism in Music, wherein he specifically attacked Mendelssohn. As a result, performance of Mendelssohn's music in Germany was restricted, and in the Nazi period, it was completely suppressed. Fortunately, after the war his music has been restored to its proper place.  And these days, the works of his sister Fanny are drawing listeners as well.
The first movement of this string quartet is filled with a clearly stated motto and then three gracious, serious melodies and their rhythmic or melodic variations. The Canzonetta is modelled on a sixteenth-century dance-like song form, and is written in ABA form. In its daintiness, charm, and transparency, it is considered to be one of Mendelssohn's finest works, and is often performed as an encore. The third movement opens with the motto from the first movement. The first violin moves into an improvisatory passage marked con fuoco ("with fire"), and then the ensemble repeats the first statement with elaboration. Without pause, we swing into the final movement with a tarantella, a wild Italian folk dance that was believed to cure the bite of that very spider. The now-familiar motto from the first movement is played by the first violin, and then is reprised by the whole ensemble. The quartet ends gently and quietly.
Click here for an outstanding performance of this work by the Ying Quartet.  The Ying siblings are from Winnetka, IL and the ensemble is now a Grammy-winning quartet in residence at Eastman School of Music in Rochester, NY.
Jessie Montgomery (1981- ).
Strum (2013).
Performance time: 8'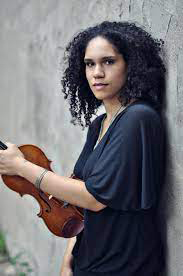 Jessie Montgomery
Jessie Montgomery is a violinist, composer and teacher. She was born in Manhattan to artistic parents (father a composer, mother an actor and writer).  She studied violin first, and moved on to composition at age 11. As a teen, she participated and performed in the Sphinx Virtuosi chamber ensemble and later taught at the Sphinx Performance Academy, eventually being awarded their medal of excellence.  Based in Detroit, the Sphinx Organization promotes racial and ethnic diversity in in classical music. Montgomery holds degrees from the Juilliard School and New York University. She was a member of the Catalyst Quartet until last year, and then joined the CSO as the Mead Composer in Residence starting this season. Both the CSO and the Civic Orchestra have already performed two of Montgomery's works this season, and the CSO will perform a world premiere in April 2022.
We are fortunate to be able to access the composer herself for commentary on "Strum," the work we will hear today. She writes:
"Originally conceived for the formation of a cello quintet, the voicing is often spread wide over the ensemble, giving the music an expansive quality of sound. Within "Strum" I utilized texture motives, layers of rhythmic or harmonic ostinati [continuously repeated phrases] that string together to form a bed of sound for melodies to weave in and out. The strumming pizzicato [plucking] serves as a texture motive and the primary driving rhythmic underpinning of the piece. Drawing on American folk idioms and the spirit of dance and movement, the piece has a kind of narrative that begins with fleeting nostalgia and transforms into ecstatic celebration."
This performance of "Strum" from 2014 is by the Catalyst Quartet, for whom it was written, and includes Jesse Montgomery, the composer.
Claude Debussy (1862-1918).
String Quartet in G minor, Op. 10 (1893).
Performance time: 25'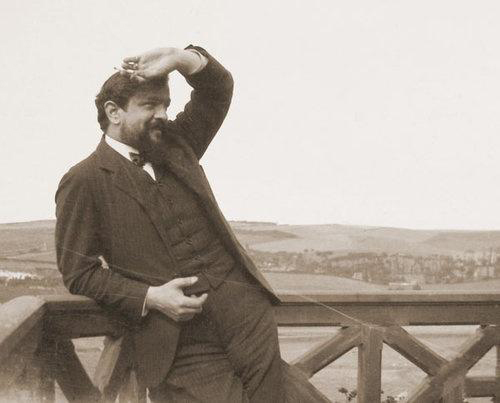 Claude Debussy
For Debussy, music was everything. In 1889, at the beginning of his maturity as a composer, he wrote: "Music begins where words are powerless to express. Music is made for the inexpressible. I want music to seem to rise from the shadows and indeed sometimes to return to them." And indeed, his music does shift and pulse with the mists. His tonal palette was unlike anything before, and he, perhaps more than Stravinsky, was the true musical revolutionary of the period. After he returned to Paris from winning the prestigious Prix de Rome, he joined its exciting intellectual swirl of artistic and musical café life, and started to forge his own distinct, original musical style. For inspiration he  drew on many sources, including Russian, Oriental, and baroque French melodies, harmonies and colors. At that time, two major artistic movements were on the rise: Impressionism, concerned with visual art and expressed by the famous painters we have so well represented here in Chicago such as Manet, Monet, Pissarro, Degas, and Renoir; and Symbolism, a literary movement of which the poets Baudelaire, Mallarmé, Verlaine and Rimbaud were exemplars.  The Symbolists wanted their art to appeal to the senses rather than to the intellect, and used words as symbols and musical elements, and were a strong influence on Debussy. So, while Debussy is sometimes called an "impressionist," he should perhaps more properly be considered a "symbolist" in their love of sound, or at least an amalgam of the two. He set the poetry of each of the above-mentioned poets to song, and was inspired by Mallarmé's poem to write his symphonic poem "Prélude à l'après-midi d'un faune."
The Quartet in G minor is Debussy's only string quartet, and is a groundbreaking work in which he explores colors, moods, and constantly shifting harmonies. This opening statement from the first movement is repeated in various forms throughout each successive movement. A distinguishing feature of this motif is the fast three-note triplet ornament toward the end:
The viola starts the second movement with its rendition of this triplet motif over pizzicatos (how different in color from Montgomery's pizzicatos!) and the triplets are tossed between the other string voices. The third movement features gentle, sad melodies with unpredictably shifting harmonies underneath. The middle section of this movement has organ-like sonorities for the outer strings, while the viola sings fragments of the first movement's motif, then to be joined by the others. The final movement opens with a slow introduction and the original motif. Then starting with the cello, each instrument enters in a fugue-like passage, moving into increased intensity, variation, and repetition, and ending with a final exciting, considerably altered restatement of the opening motif.
Here is an early recording (1928) of a performance of this quartet by the Capet Quartet, a famous French string quartet active at that time. They were founded in 1893, the year this quartet was written. Early members of the quartet included the founder Lucien Capet, and Henri and Marcel Casadesus, two uncles of the celebrated pianist Robert Casadesus. The quartet often rehearsed in the Casadesus home, which is where Robert was introduced to chamber music.
—Program Notes by Louise K. Smith
with thanks to Lucy Murray Miller
and Melvin Berger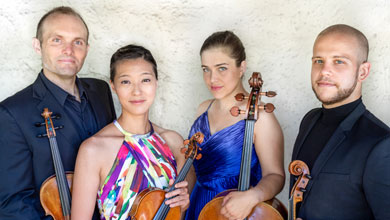 Individual tickets may be purchased at the door (cash or check only) immediately before each concert.
All concerts are held at a private club just off Michigan Avenue in Chicago.
Call or email for more information
847-251-1400 Ext. 0
info@ChicagoChamberMusicSociety.org