Neave Piano Trio
Program
Jennifer Higdon
Piano Trio Movement 1 (Pale Yellow)
Louise Farrenc
Piano Trio in E-flat Major, Op. 33
(Movements  I, II, IV)
Rebecca Clarke
Piano Trio
Neave Piano Trio
Since forming in 2010, the Neave Trio has earned enormous praise for its engaging, cutting-edge performances. The Trio's 2019 album Her Voice, on Chandos Records, was named one of the best recordings of the year by both The New York Times and BBC Radio3. Their concert for us will feature selections from this recording.
Program Notes
Jennifer Higdon (1962– )
Piano Trio, Movement 1 (Pale Yellow) (2003).
Performance time: 8'
Jennifer Higdon is one of four women composers and one of four living composers whose work we will hear this season. She is one of America's most acclaimed and most frequently performed living composers. She is a major figure on today's music scene, receiving a Pulitzer Prize in Music and three Grammy's. Higdon received Northwestern University's prestigious Nemmers Prize, given to contemporary classical composers of exceptional achievement who have significantly influenced the field of composition. Dr. Higdon teaches composition at The Curtis Institute of Music.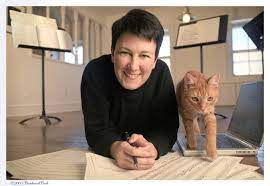 Jennifer Higdon and friend
Composers for centuries have been interested in the connections between music and color. Some had synesthesia, a neurological phenomenon wherein they saw colors when they heard musical notes. Famous composers with this condition include Scriabin, Rimsky-Korsakov, Liszt, Messiaen, Sibelius, Ellington and Ligeti.
Joining this list of illustrious composers/synesthetes is Jennifer Higdon. Today's piano trio has two movements, "Pale Yellow" and "Fiery Red."  (Hear the second movement in the link provided in the online program notes.) Higdon writes: "Can music reflect colors and can colors be reflected in music? I have always been fascinated with the connection between painting and music. In my composing, I often picture colors as if I were spreading them on a canvas, except I do so with melodies, harmonies and through the instruments themselves. The colors that I have chosen . . . reflect very different moods and energy levels, which I find fascinating, as it begs the question, can colors actually convey a mood?"
What colors do you hear and what mood do you see as you listen to "Pale Yellow"?
Here is a complete performance of the complete trio, performed by John Fadial (violin), Beth Vanderborgh (cello) and Theresa Bogard (piano), all faculty members at the University of Wyoming Department of Music.
Louise Farrenc (1804-1875)
Piano Trio in E-flat Major, Op. 33 (1841-44)
Performance time: 22'
Louise Farrenc was born into a bohemian, artistic family of sculptors and painters who encouraged women to develop their artistic interests. At age 5, she started piano studies and started to compose. At 15, she showed so much talent that her parents enrolled her in the prestigious Paris Conservatoire. Because she was not allowed as a woman to take composition classes, she sought out and studied composition privately with the Conservatoire's director. After completing her studies, she toured as a concert pianist and became quite famous in the 1830's. In 1842 she became the first and only woman in the 19th century to be appointed to the position of professor of the Paris Conservatory. She stayed for 40 years, and enjoyed great renown as an outstanding professor while continuing to compose. She wrote symphonies and overtures, and her chamber music was particularly successful. Despite this acclaim, she was paid far less than her male counterparts at the conservatoire. It was only after the very successful premiere of her nonet (a work for nine instruments) that she demanded and won equal pay. Her husband, the founder of an important music publishing house, was her strong advocate and supporter. Together they researched and published ground-breaking and important investigations into French Baroque keyboard music. Her music was no longer performed in the early 20th century, but thanks to a revival of interest in overlooked women composers of the past, we are now finally hearing it again.

Louise Farrenc
Farrenc's own piano virtuosity is evident in this Trio, which sounds quite at home in a Beethoven/Mendelssohn context. Delightful and independent dialogue between the three instruments is a feature of the first movement. A strong first theme is followed by a lyrical second, with interesting explorations of different keys and texture. The gentle Adagio sostenuto ("slow and sustained") belongs to the strings, only later joined briefly by the piano. (You can hear the third movement in the link provided in the online program notes.) The fourth movement is a joyous rondo, wherein three clearly defined short segments (A, B and C) are repeated in strict order ABACABA. It is fun to listen for these segments as they come up and to anticipate and recognize them in the rondo format.
Here is a recording of the complete trio, performed by Mary Ellen Haupert (piano), Nancy Oliveros (violin), and Laura Sewell (cello).
Rebecca Clarke (1886-1979)
Piano Trio (1921)
Performance time: 22'
As supportive a family and successful career that Louise Farrenc enjoyed, Rebecca Clarke suffered the opposite. She was born in England to a German mother and American father, who was cruel and abusive. She first studied at the Royal Academy of Music but when her harmony teacher proposed marriage, her parents immediately withdrew her. She turned to studying composition at the Royal Conservatory of Music, which so infuriated her father for some reason that he threw her out of their home. Studies unfinished, she started an active performing career as a violist, and became one of the first female musicians in a fully professional ensemble when at the invitation of Henry Wood, she joined the Queen's Hall orchestra. She travelled to the US and toured extensively, while still composing. She achieved fame as a composer with today's Piano Trio and her Violin Sonata. Both compositions were runners-up in the Berkshire (Mass.) Festival of Chamber Music, organized by Elizabeth Sprague Coolidge, a native-born Chicagoan and a charter member of the Friday Club. Clarke's career flourished, performing both as a soloist and as an ensemble player, and she was heard in BBC broadcasts and made several recordings. WWII brought significant difficulties to her again, but she continued to compose and revise her works through her 90's. Much of her work was unpublished in her lifetime, but we hope that publishing it in the future will bring her more recognition.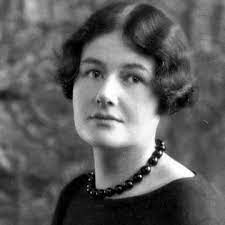 Rebecca Clarke
Listen here to a recording of the complete work performed by Chicago's own Lincoln Trio, who performed for CCMS in 2019 and recorded this work for Jim Ginsburg's Cedille Records.
The key to this entire trio is the following two-part figure:

I
This theme is repeated innumerable times by each instrument in each movement. Clarke elaborates on the first part's rhythmic theme (the initial eight notes) and then separately on the second part's melodic material. The first movement is aggressive, marked "with passion." We briefly hear a fragment of a reveille call—perhaps in 1921 Clarke was thinking about WWI—and throughout, we hear florid piano arpeggios against unison violin and cello. In the lyrical "simple" second movement, the music continues to explore the meditative possibilities offered by this theme. The last movement melds the ideas presented in the first and second, including an expanded reveille, and brings back the theme in its original form as a final exclamation point.
—Program Notes by Louise K. Smith
Individual tickets may be purchased at the door (cash or check only) immediately before each concert.
All concerts are held at a private club just off Michigan Avenue in Chicago.
Call or email Tricia Fusilero for more information
773-823-5569 x1012
office@ChicagoChamberMusicSociety.org